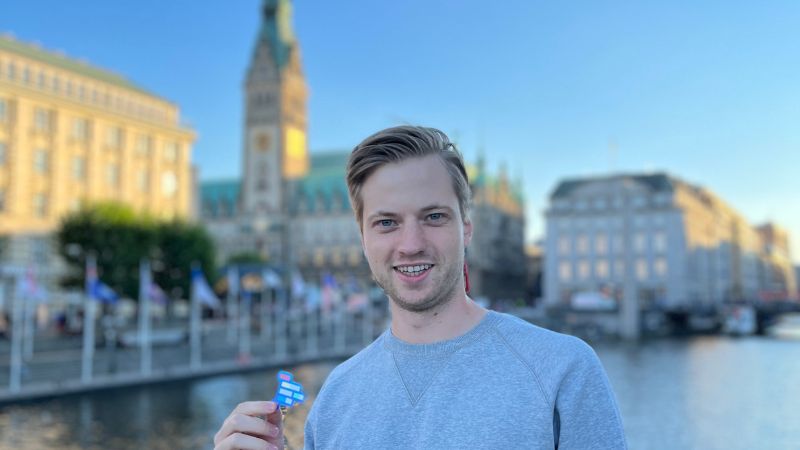 We believe in the power of personal stories. Sharing our experiences allows us to learn from each other, have meaningful conversations, and build stronger communities. That's why we're excited to introduce our new blog post series, "Success Stories," which showcases the inspiring journeys of our alumni.
Today, we're thrilled to celebrate the story of Immo Beeck 🤩.
We met with Immo on a Thursday afternoon at a local coffee shop to hear about his trajectory first-hand. Our conversation flowed easily, and we soon learned that Immo holds a Bachelor's degree in International Management 👨‍🎓. He shared snippets of his journey, including his six-month study abroad experience in Chile, where he improved his Spanish language skills. '¡Que bacán!' (Chilean expression meaning: 'that's cool!').
He also worked at a media agency in Amsterdam.
A genuine globetrotter in the making ​​ 🧳!
Immo's adventurous spirit has taken him all around the world, but his curiosity and creativity eventually led him to enroll in a Master's program in Business Consulting and Digital Management 📚 in Hamburg. It was there that he was first introduced to the programming language "R," and he fell in love with the logical thinking required for coding 👾.
Coding has made its way into Immo's professional path.
As he continued to work in marketing and pursue his master's degree, Immo became interested in Data Science and Web Development. After some research, during a fateful googling session, he discovered Hamburg Coding School and decided to enroll in our Full-Stack program ✨.
Programming was soon to be removed from his 'to-do list' 📝. A new career path was slowly but steadily starting to take shape.
In October of 2021, he enrolled in our school 🧑‍💻. For six months, Immo worked tirelessly to become a Full-Stack Software Developer. He was determined to steer his career in a new direction and put in a lot of effort to complete the program's projects. His hard work paid off, and he graduated with a smile on his face 😁.
Despite the challenges of finding a job as a Junior Web Developer, Immo persevered. Soon, with the help of a referral from Teresa, our founder, he got a job interview with Ubilabs. (Short pause to do a happy dance! 💃🏻🕺).
After three rounds of interviews, he landed a junior position and joined the Ubilabs team as a Software Developer. He currently mainly works in front-end development 🎉.
Not long after graduating in web development, Immo found the job he wanted and is thriving 🎊! He is continuing to expand his knowledge of React.js, with Svelte being his favorite framework. Why, you wonder? You are not alone. When we asked, he told us he's drawn to its minimalist approach! A few lines of code are all you need to make it work. Not bad at all!
When discussing his daily routine at a tech company, Immo expressed appreciation for his colleagues. Teamwork indeed makes the dream work! ✨
He emphasized the importance of teamwork in coding, despite the common perception that it's a solitary activity. He stressed the need for writing clean and clear code and how much he learned to appreciate the practice of good naming conventions in a codebase 💻.
It's all about naming! 🤩
As our conversation came to an end, we asked Immo what advice he would give to future students. He replied without hesitation, "Stay curious! Don't get discouraged by setbacks and always ask for help when you need it." We couldn't agree more 💛.
Immo Beeck is one wise programmer!
We hope you enjoyed reading this first post in our 'Success Stories' series! We loved writing it! Even more so, we are beyond grateful to be a part of Immo's journey 🙏.
There will be many more 'Success Stories' to come 🚀. So, stay tuned!
If you wish to contact Immo, you can visit his LinkedIn profile: Immo Beeck.